The cross-point™ Collection
DESIGN OF THE MONTH
November 2017
ZAGROS - at 20% Off Retail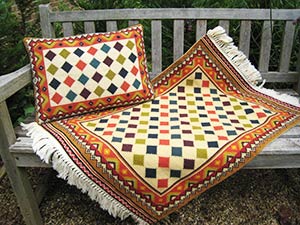 Each month - except during our Annual and Semi-Annual Special Offers - we feature a popular design in all available colors from the main Pattern Pages at a Special Offer discount of 20% off Retail. For information on the monthly DOM, please sign up for the blog post on wordpress by clicking the "W" at the bottom of the sidebar. I promise only one mailing each month but please add us to your "safe sender" list.

More on this Special Offer can be found on this month's blog page by clicking on the W in the left side bar. If you order online, PayPal will bill the full retail and we issue the 20% discount back through PayPal when the order is processed in house. Alternatively, you can also call in your order directly to cross-point at 828-628-2743.
Please visit the blog at https://cross-pointblog.com for additional information on this offer where you will find an additional 20% Off Retail surprise. With so many companion pillows to choose from, this is an offer almost as good as our Annual Special - and geared to those who can't wait until December! Be sure to also check out all of our new wider pillow sizes as shown on individual pattern pages. And as always, happy stitching!

| cross-point™ Kit | Name/ Item Number/ size & color | Price |
| --- | --- | --- |






#ZAG-01 multi-colors,
19" wide x 14" high (48x35cm)
ZAGR-01 rug is 24"wx35"long
(60x90cm)
CUSTOM COLORS NOT AVAILABLE

COMPANION PILLOWS:Anatolia 09,
Basilica 09, Pisac 01,Tabriz 01,
Triangles 05,Soumak 04, Nilos 02,
Balouch 07,Balouch Stripe 03, Karakum 04,
Morroco Stripe 02,Berber Stripe 02,
Celtic Knot 04



Pillow Reg. Price
$99.00
SPECIAL OFFER
Less 20%
$79.20

Zagros Rug Reg.Price
229.00
SPECIAL OFFER
$183.20


#ZAG-02
and #ZAGR-02

same prices as
above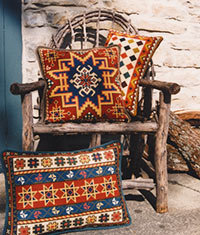 Zagros 01 shown above with Kilim pattern in 01 colors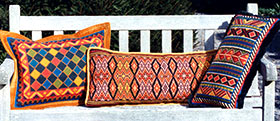 Zagros 02 pillow shown above with Morocco 01 and Berber Stripe 02
back to top